First Team & Team Kids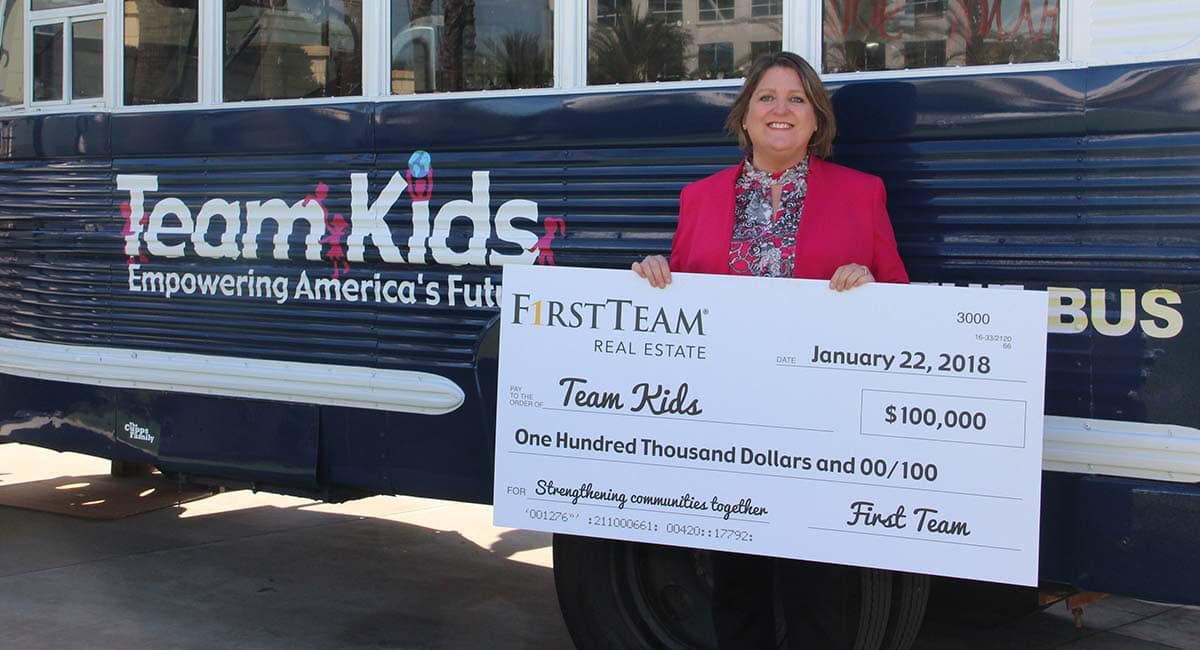 We share more than just 50% of our name with Team Kids, we share a vision for strengthening communities through service and compassion. As Team Kids Ambassadors, we're leading efforts to serve in our communities and fundraise for Team Kids.
Through our partnership with Team Kids —called the Team Kids Superhero Program—real estate agents serve as mentors to children in their communities, guiding them through various challenges that allow them to make a difference and earn recognition for it.
"Through the Superhero program, kids will be presented with challenges to complete, such as bringing blankets to an animal shelter or writing a thank you note to someone in the military," Hudash explained. "Once they complete these challenges, the real estate agents will present them with certificates thanking them for their contributions and for helping to make their own community a better place."
The Superhero Program, and our affiliation with Team Kids, is part of our organization's overarching mission to make a difference in the communities we call home.
Testimonials
" We can't speak highly enough of our experience with Cari. We were first-time home-buyers with very little knowledge about how to find the right place. She is honest and hands-on and she really helped to take the pressure off of us. Cari walked us through every step of the negotiations, even suggesting that we write a letter to the sellers to explain why we thought they should choose us. We will definitely recommend Cari to all our family and friends. "
- Lisa B.
" I can't say enough good things about Cari. She was patient, honest, knowledgeable and such a joy to work with. Cari always had a smile, offered excellent, honest advice, was super quick with responses and helped me make informed decisions. She made the transaction extremely easy and I am very appreciative of her -- I highly recommend Cari! "
- Julianne L.
" We were extremely impressed with Ms. Luongo's professionalism. She displayed expertise throughout the entire process. Having dealt with a number of agents and brokers over the years, we can honestly say that dealing with Cari was the best experience we've had. We always felt Cari was working for our best interests, both in negotiating and when answering our (numerous) questions. Her attention to detail was always apparent, and Cari was present for inspections and the appraisal, as well as for the photo session for the MLS. We would definitely use Ms. Luongo in the future. A-PLUS! "
- Al and Chris B.
" It was wonderful working with Cari. She was always available and willing to help with anything. She is very knowledgeable and caring. She loved my dog and the feeling was mutual. She made the whole house selling experience very easy. "
- Deanna M.
" I can't say enough about Cari. In my 30+ years in the Real Estate industry I've come across quite a few of the Real Estate professionals but I can honestly say that Cari is one of the most dedicated, hard working, knowledgeable and honest individuals that I've had the pleasure of working with. Her follow through is second to none and will be sending her all of my future business. Thanks Cari! "
- Johnnie F.
" Working with Cari has exceeded any of my expectations! She is always enthusiastic and helpful. We looked at over 50 homes and Cari had no problem meeting with me multiple times during the week at my convenience. She really makes her clients a priority and cares about them. She put a lot of effort into finding us the perfect house that met all of our requirements and didn't just let us settle for less. She truly wants the best for her clients and can help you find that dream home. I will continue to use Cari and have recommended her to multiple friends and family. "
- Brittney S.
" Cari did an outstanding job helping me find my home. She was very knowledgeable in all areas of the transaction and her expertise and advise was invaluable. I look forward to working with Cari again and give her the highest recommendation possible!! "
- Jay W.
Previous
Next